2023 Taiwan and Southeast Asia Civil Society Week Program and Pictures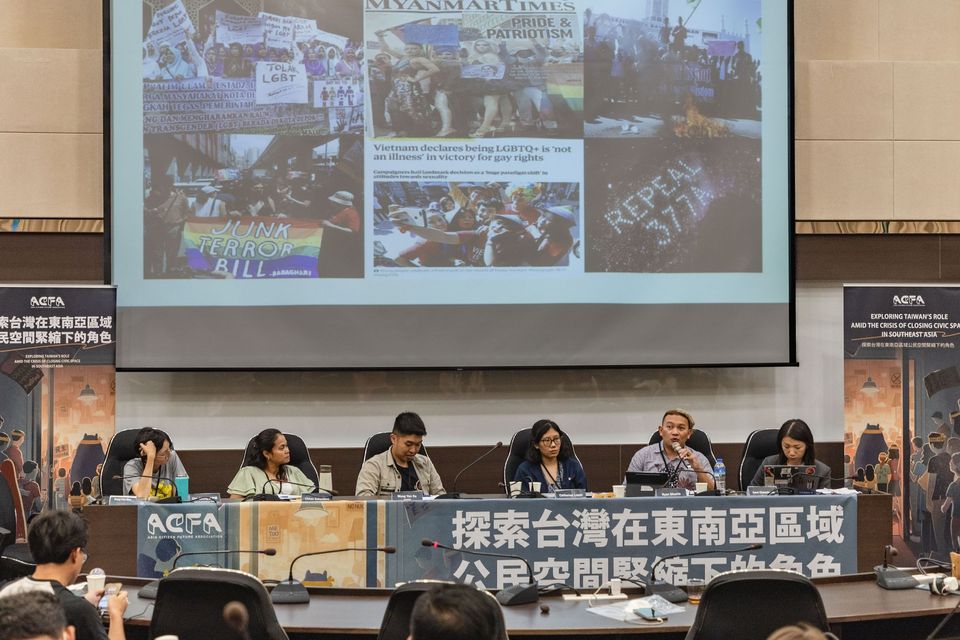 About the Taiwan and Southeast Asia Civil Society Week
"Taiwan and Southeast Asia Civil Society Week" is a platform organized by ACFA to connect civil society organisations and activists among Taiwan and Southeast Asia. The 2023 Taiwan and Southeast Asia Civil Society Week is an initial stage for CSOs and activists in the region who are facing threats derived from the trend of the closing civic space to come together to explore Taiwan's condition on providing support or any further and potential collaboration.
About the report launch forum
In the 2023 Taiwan and Southeast Asia Civil Society Week, ACFA has launched a report "Exploring Taiwan's Role Amid the Crisis of Closing Civic Space in Southeast Asia" which is the results of the research project "Scrutinizing the Accessibility of Taiwan for CSOs From Southeast Asia".
The central question of this research is: whether Taiwan, as a democracy adjacent to the ASEAN region, has the capacity to provide an inclusive 'alternative civic space' to accommodate the surge of asylum-seeking CSOs from Southeast Asia, so as to alleviate the challenge of closing civic space witnessed in Southeast Asia.
The study does not attempt to make broad generalizations about the situation of CSOs in Southeast Asia solely based on the experiences of seven specific organizations. Instead, the study is aimed at comprehending the strategies and thought processes these organizations employ to deal with their unique situations. This understanding is crucial in identifying the key factors that influence the decisions of Southeast Asian CSOs to relocate.
By assuming the responsibility to protect human rights defenders and allowing them to maintain momentum in practicing human rights and pursue justice, civil society in Taiwan will be able to further support the development of democracy and human rights in the region.
Read the Foreword of the report: https://www.acfa.tw/report-is-out/
Forum program
Topic: Exploring Taiwan's Role Amid the Crisis of Closing Civic Space in Southeast Asia
Date: August 22, 2023
Location: Taipei, Taiwan
Report launch session
Exploring Taiwan's Role Amid the Crisis of Closing Civic Space in Southeast Asia
Speakers/Presenters
Leah Lin, Executive Director and Founder, Asia Citizen Future Association
Doris Yang, Researcher, Asia Citizen Future Association
Commentators
Michael Caster, Asia Digital Program Manager, ARTICLE 19
Khoo, YH, Associate Professor and Department Head of International and Strategic Studies, Faculty of Arts and Social Sciences, Universiti Malaya
Wong, YK, Case Management and Campaign Coordinator, SUARAM
Chiu, Eeling, Executive Director, Amnesty International Taiwan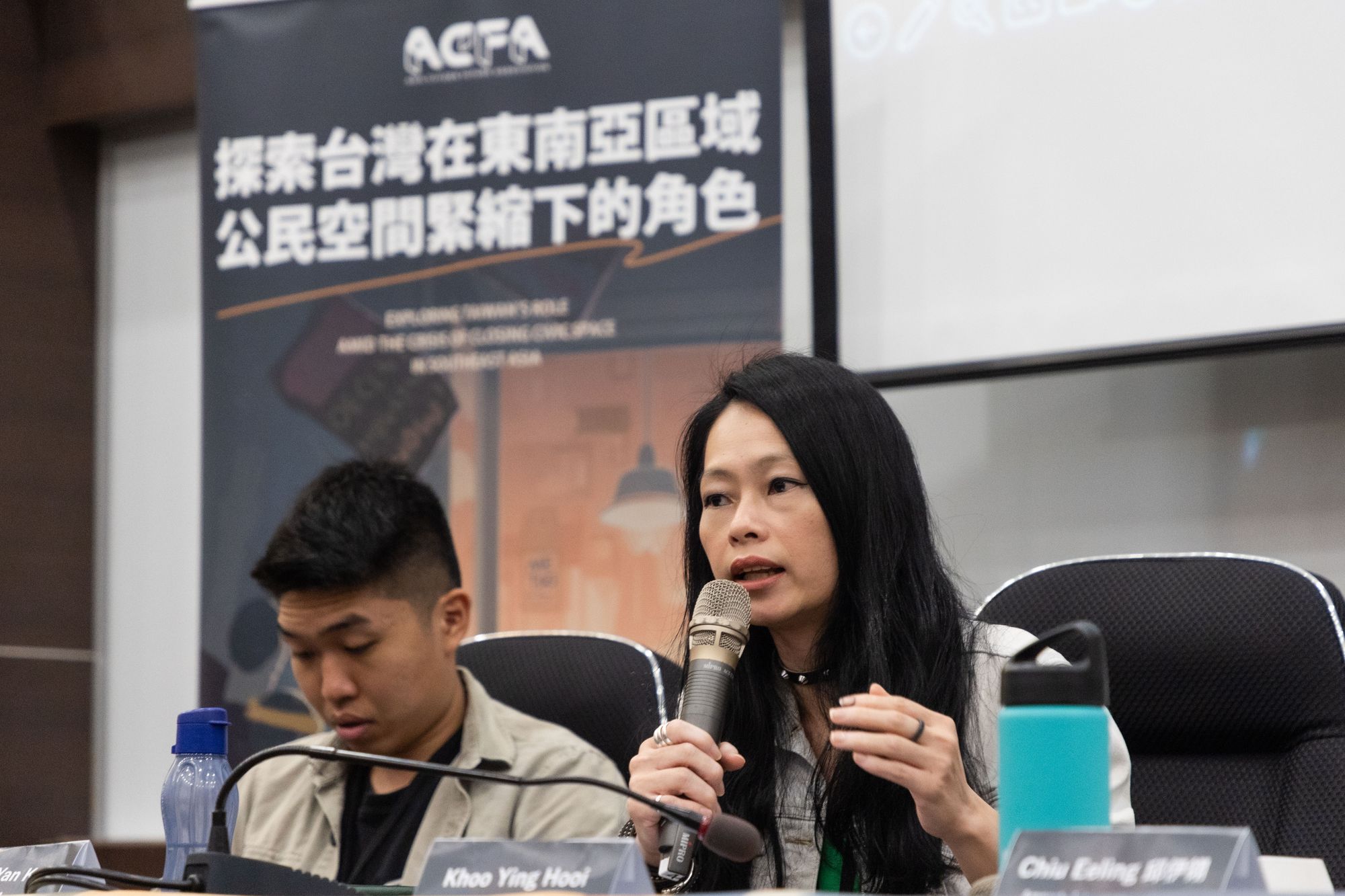 Panel 1
Enhance the Accessibility to Taiwan's Civic Space: Foreigners' Rights to Association in Taiwan
Moderator:
Leah Lin, Executive Director and Founder, Asia Citizen Future Association
Speakers:
Yi-Hsiang Shih, Secretary General, Taiwan Association for Human Rights
Trinh Huu Long, Co-founder and Co-director, Legal Initiatives for Vietnam
Karl Hsu, President of the director board, Covenants watch
Aleksandra Bielakowska, Taipei Advocacy officer, Reporters Without Borders (RSF)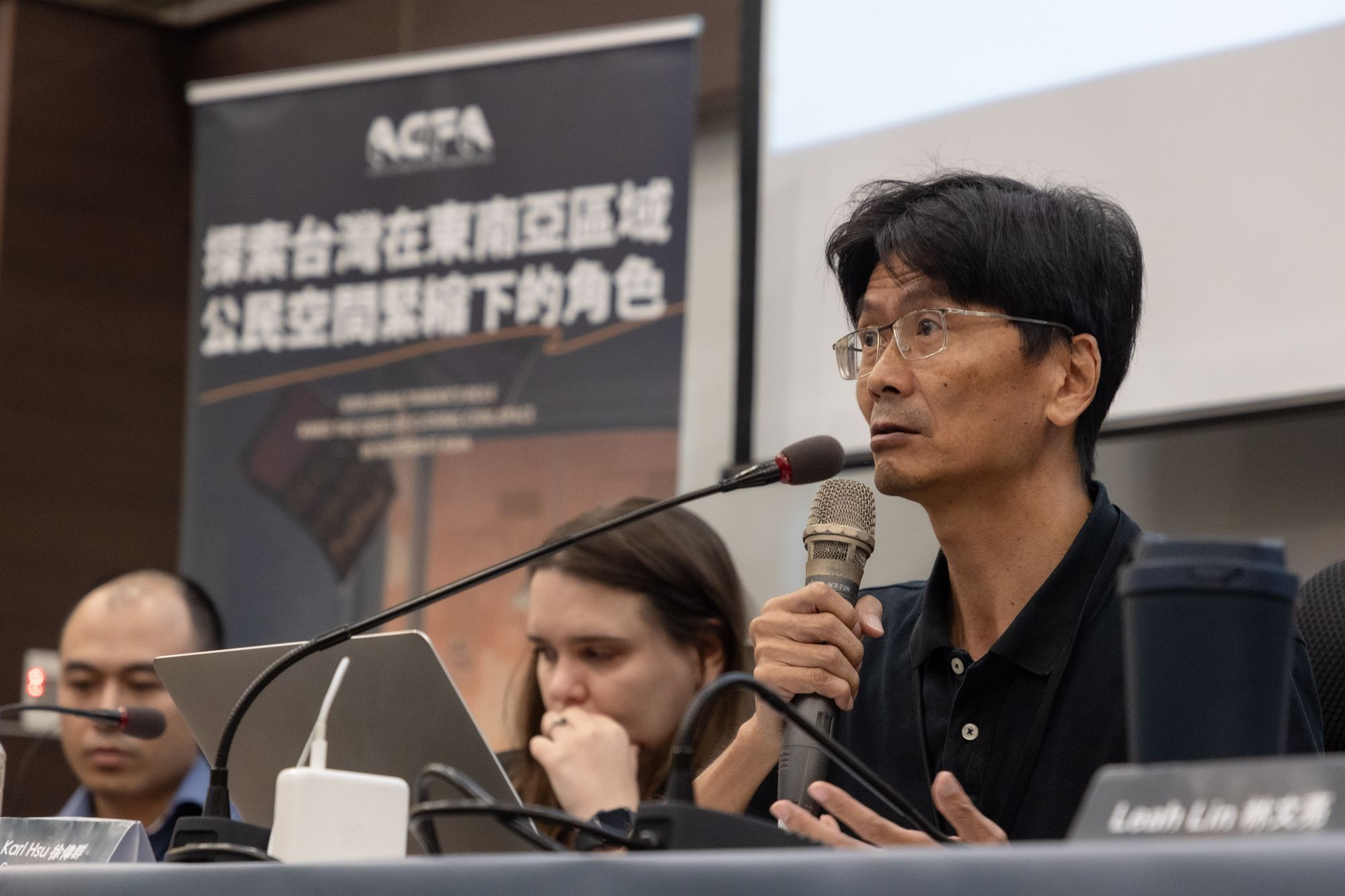 Panel 2
Threats to Freedom of Association in Southeast Asia: Case in Malaysia, Cambodia, Singapore, Myanmar and the Philippines
Moderator: Chiu Eeling, Executive Director, Amnesty International Taiwan
Special Guest: Hung Sun-Han, Legislator of Taiwan
Speakers:
Wong Yen Ke, Case Management and Campaign Coordinator, SUARAM
Chhan Sokunthea, Acting Director, Cambodian Center for Independent Media
Catherine Lopez, Program Coordinator, Research and Policy Development
Khin Ohmar, Founder and Chairperson, Advisory Board, Progressive Voice Myanmar
Ryan Silverio, Executive Director, ASEAN SOGIE Caucus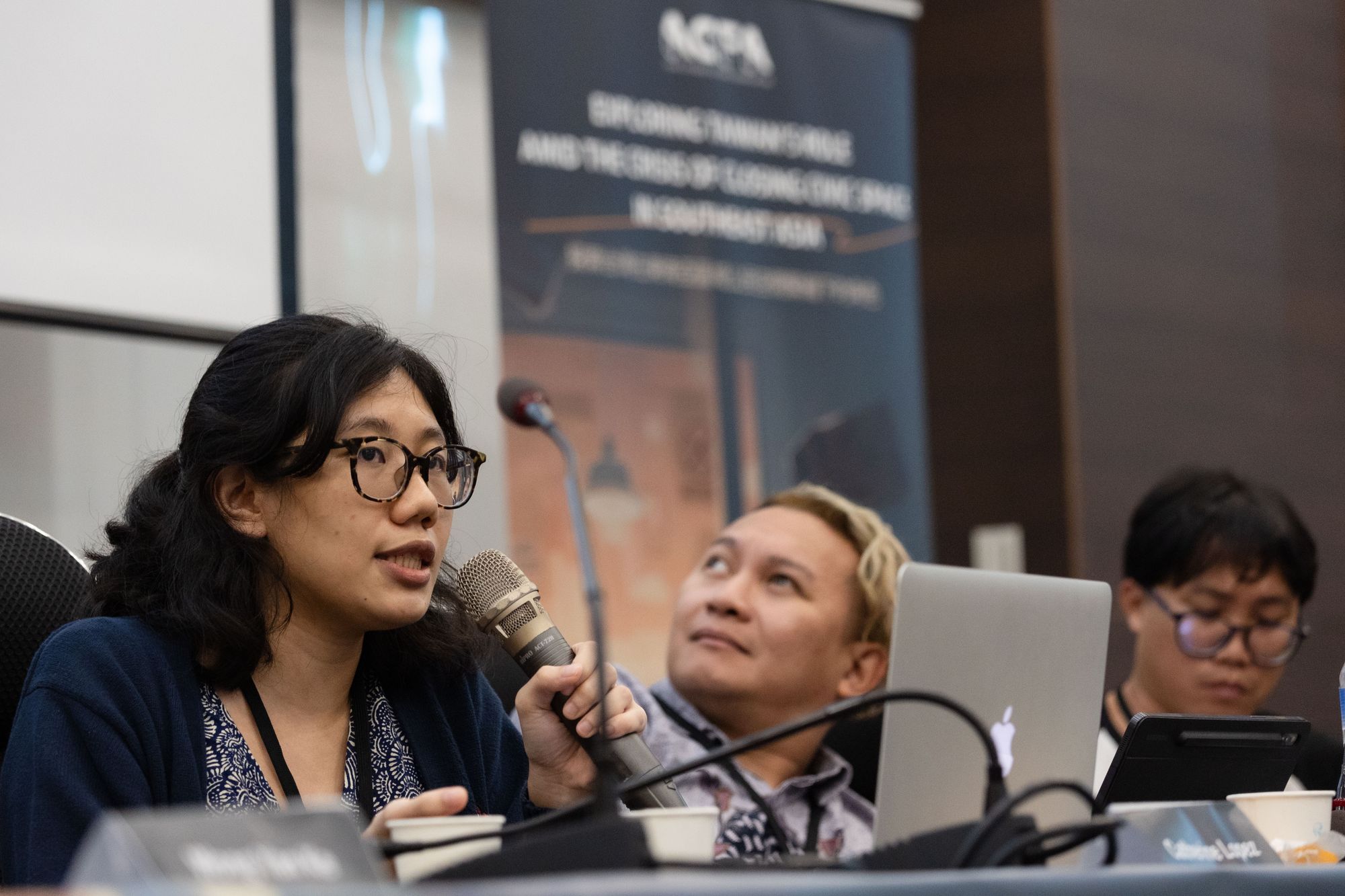 Read more here: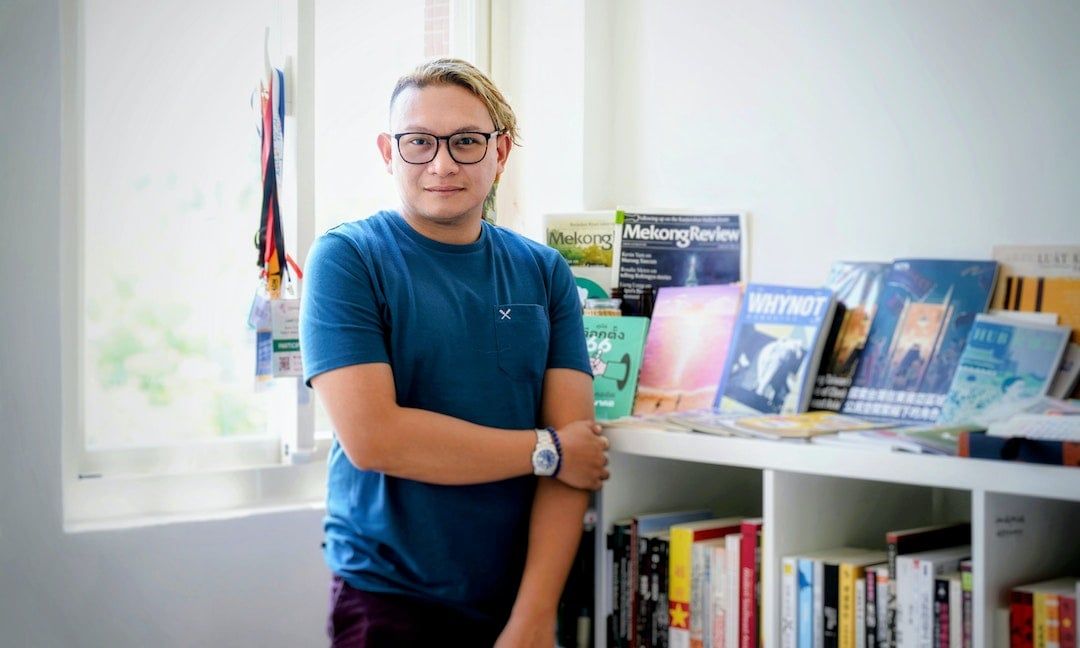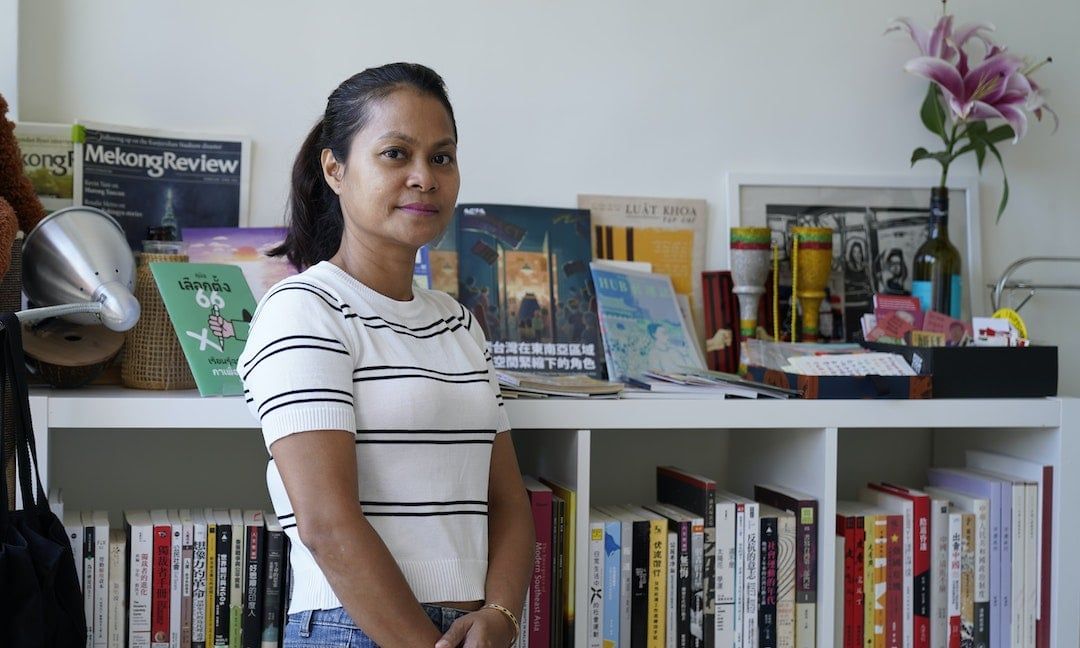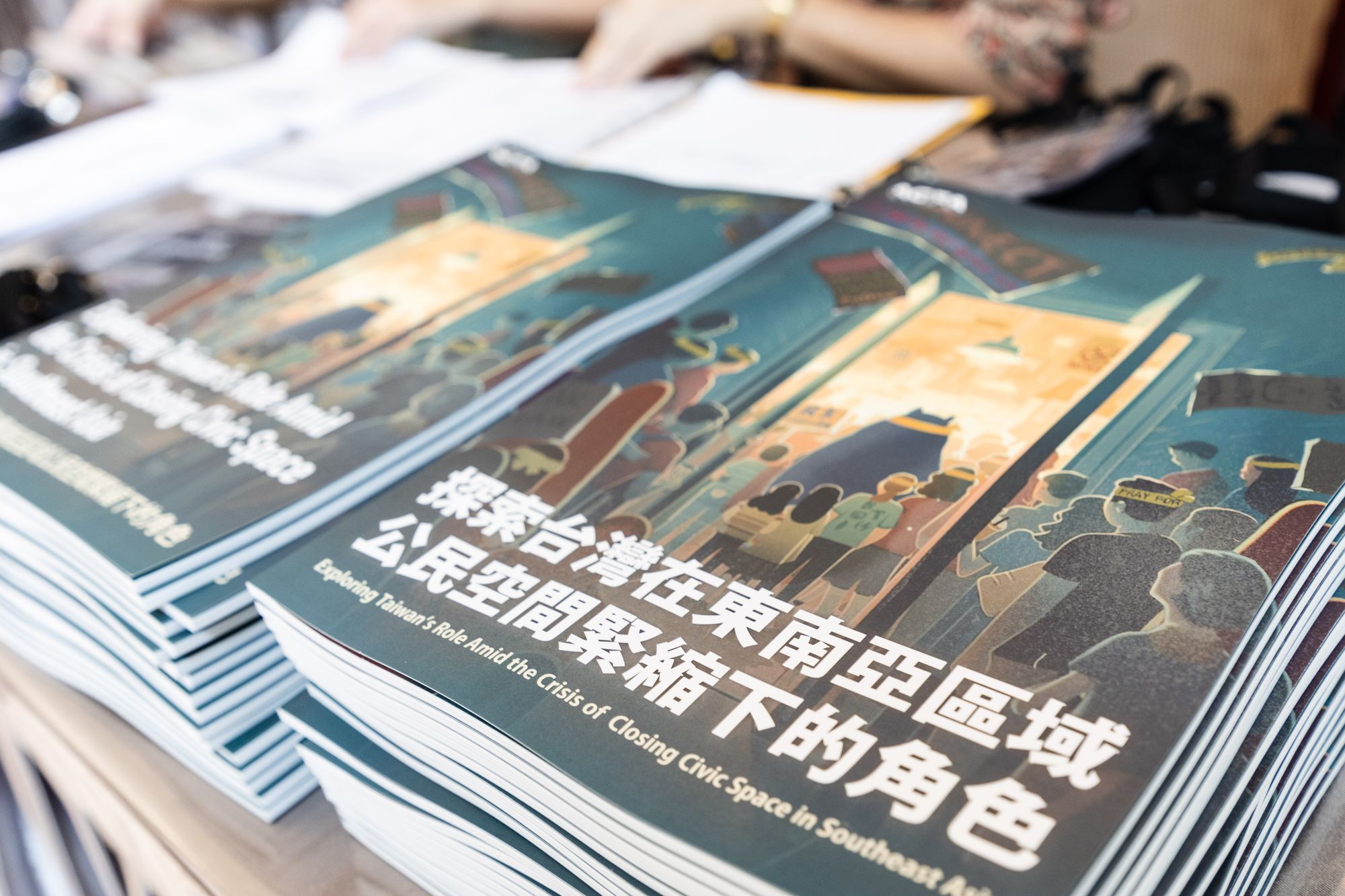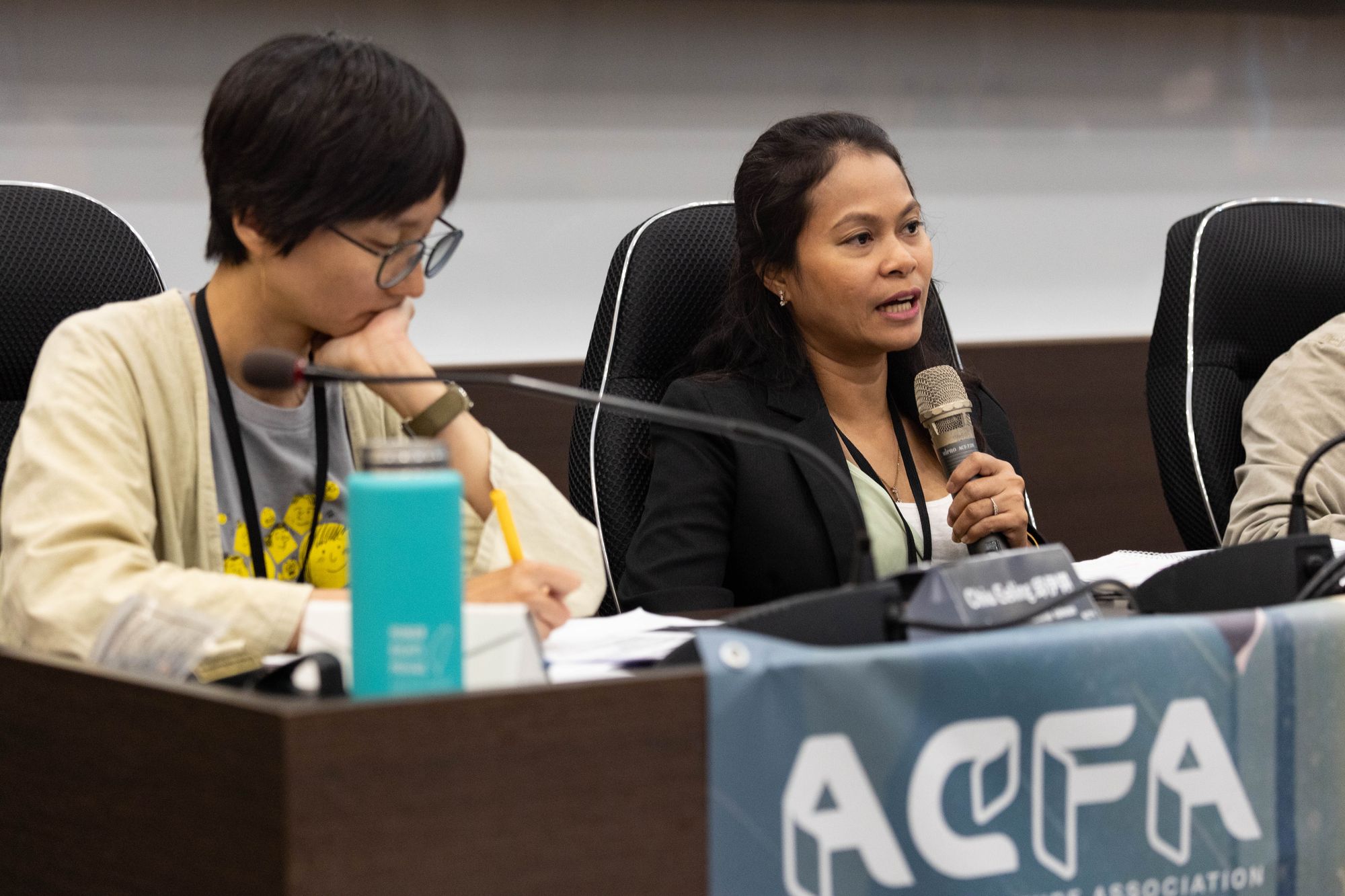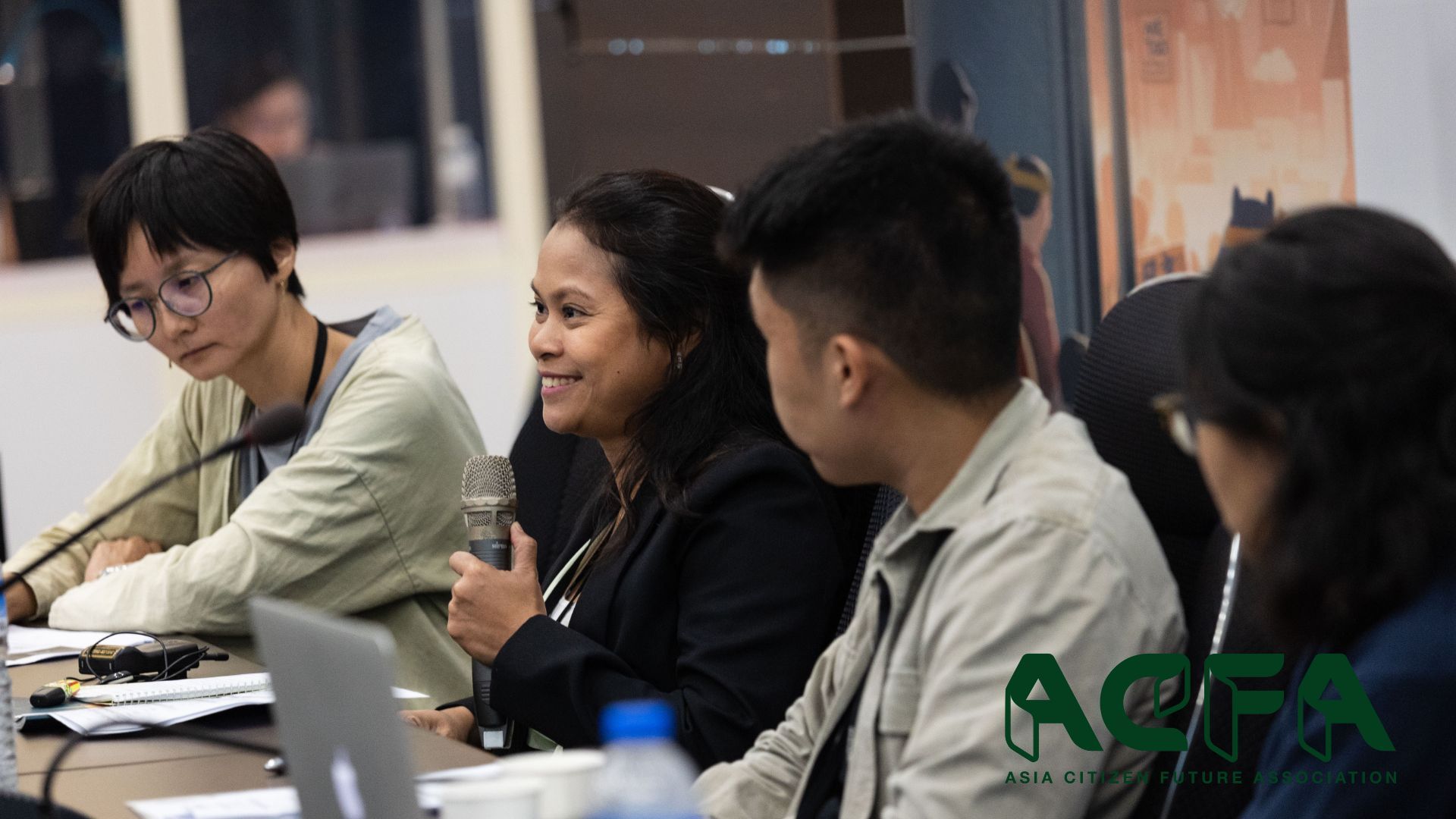 Rise Talk
Regional NGO Hub in Peril: Thailand in Democracy's Crossroad
Moderator:
Thompson Chau, President, Taiwan Foreign Correspondents' Club
Speakers:
Kunthika Nutcharut, Attorney at Law, Krisadang Law and Accounting Office
Anon Chawalawan, Project Manager, iLaw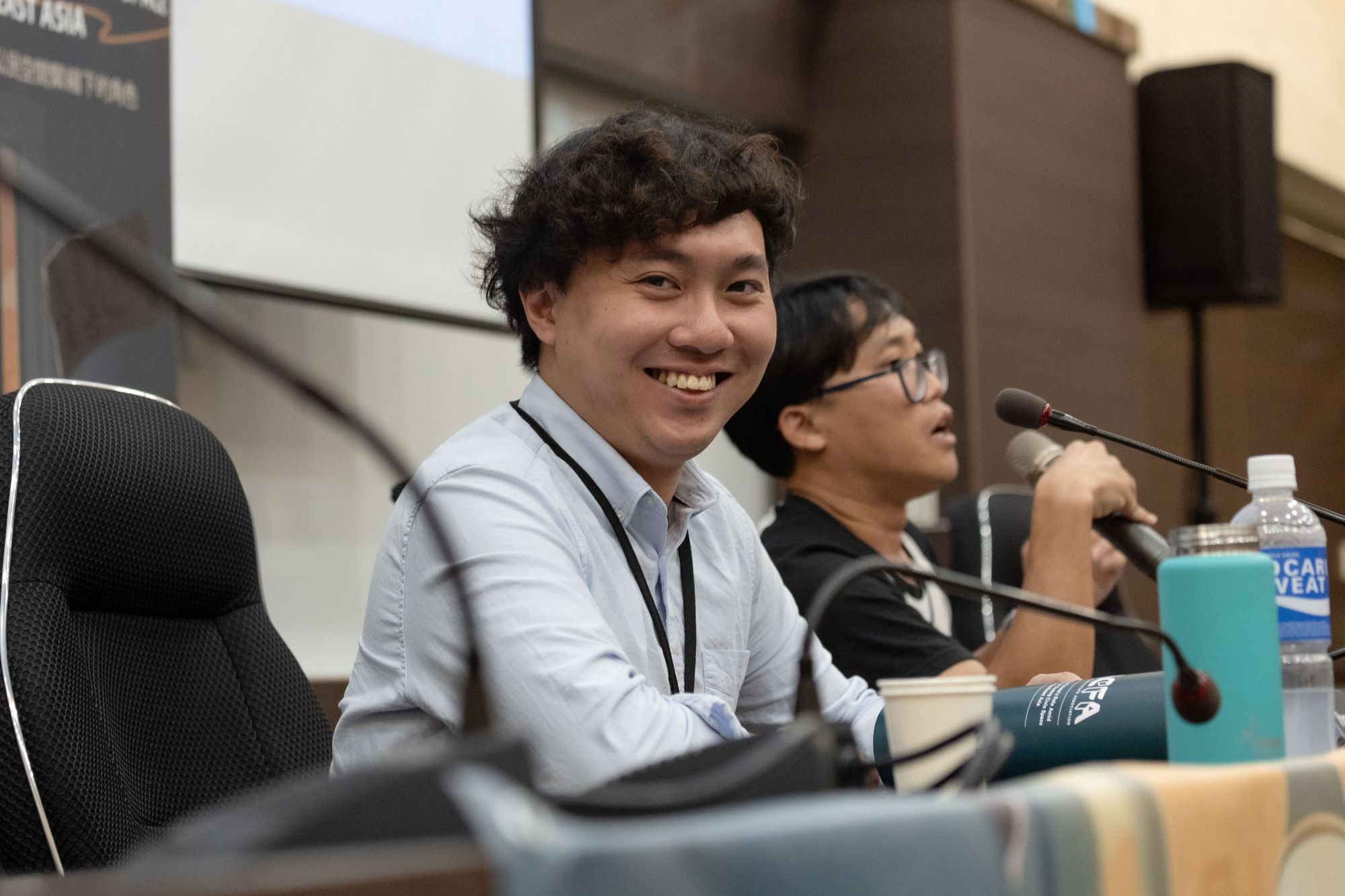 Read more here: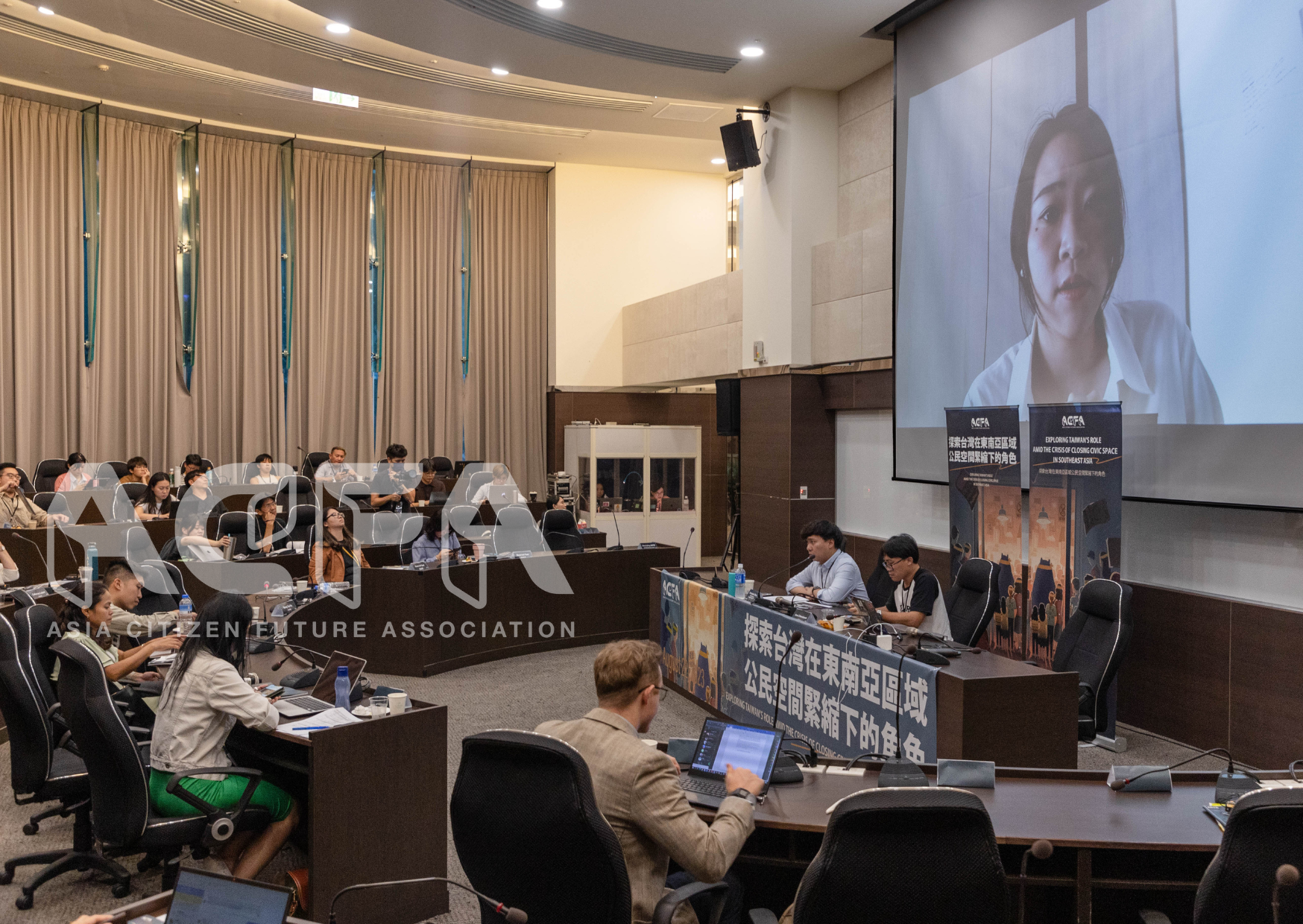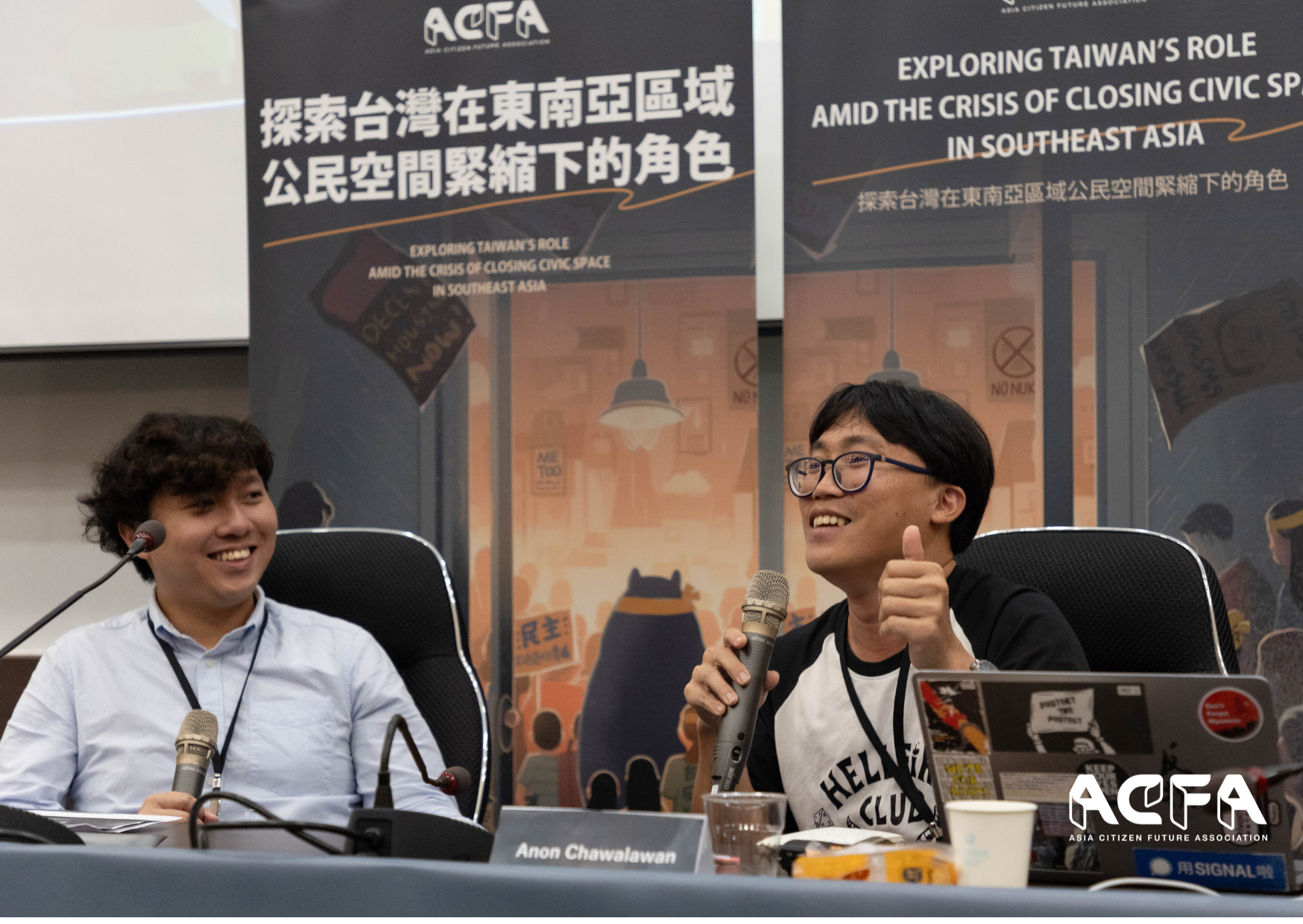 Roundtable/workshop
Initial Exploration of Taiwan's Role in Confronting the Trend of Closing Civic Space in the Region
Moderator: Ryan Silverio, Executive Director, ASEAN SOGIE Caucus
Speakers:
Roy Ngerng, Human Rights Defender
Jing-Jie Chen, Campaigner, Safeguard Defender
Wang Si, Deputy Secretary-General, Taiwan Association for Human Rights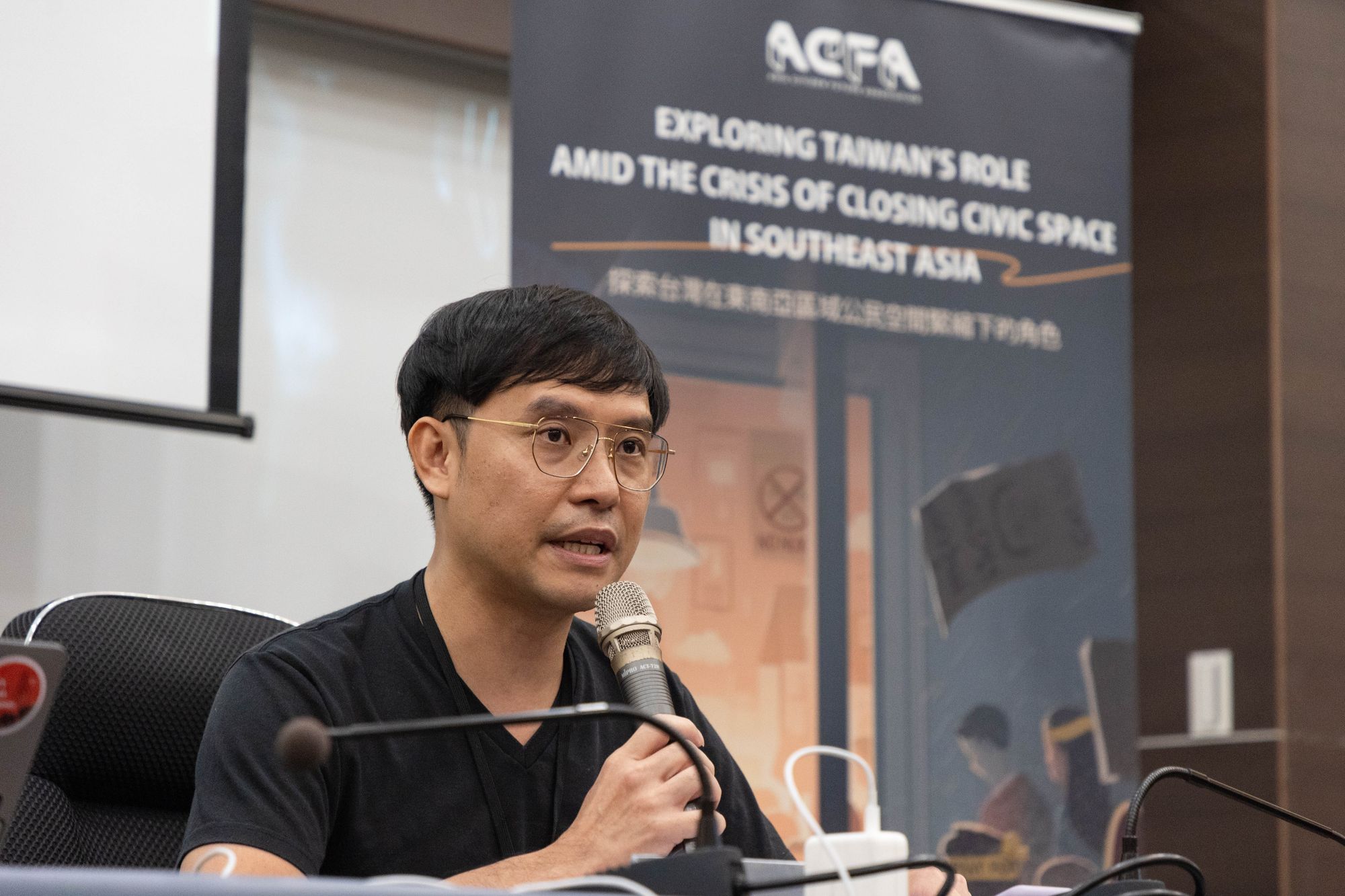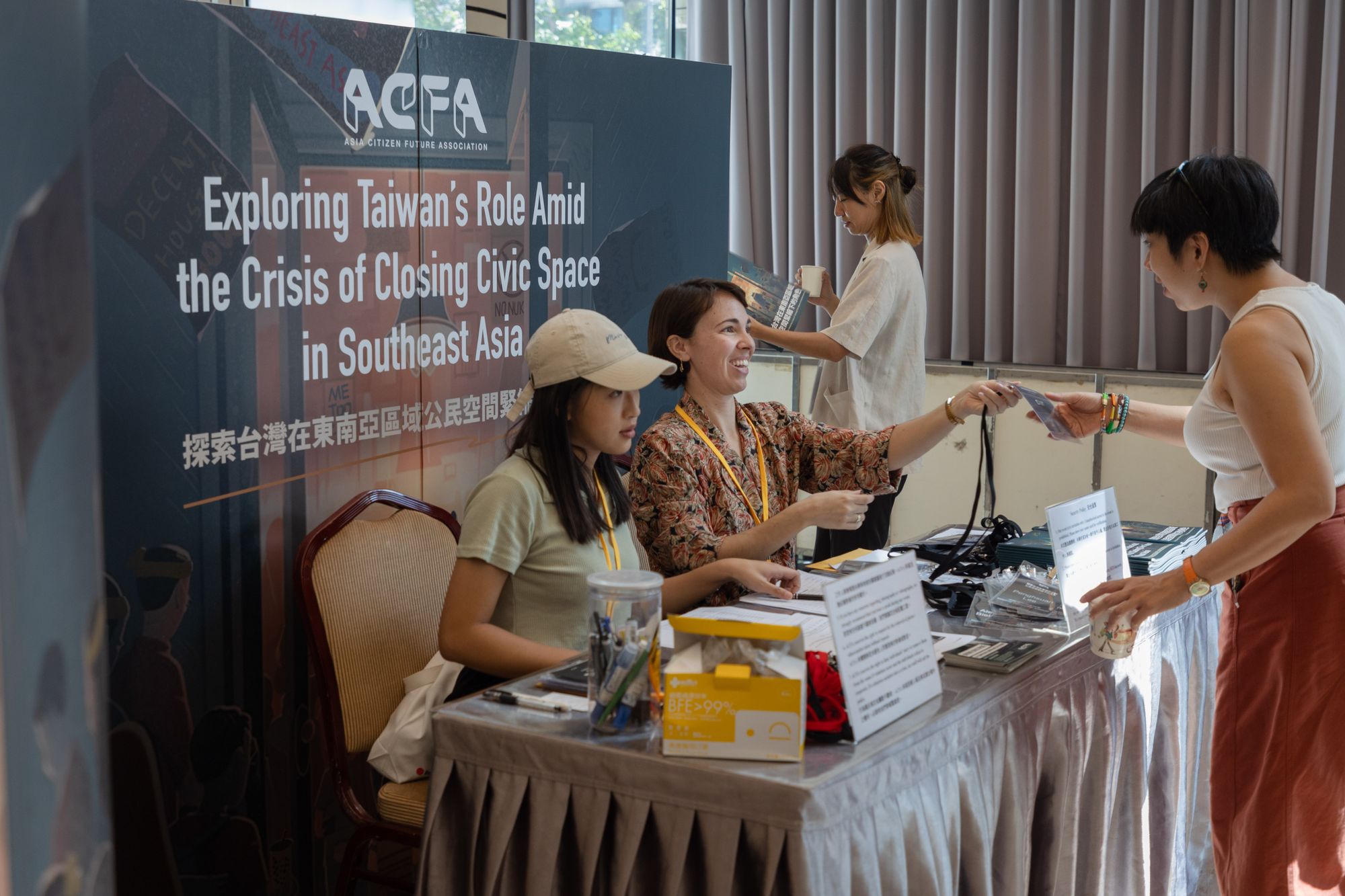 ---