【Report Launch Forum】8/22 Exploring Taiwan's Roles Amid The Crisis of Closing Civic Space in the Southeast Asia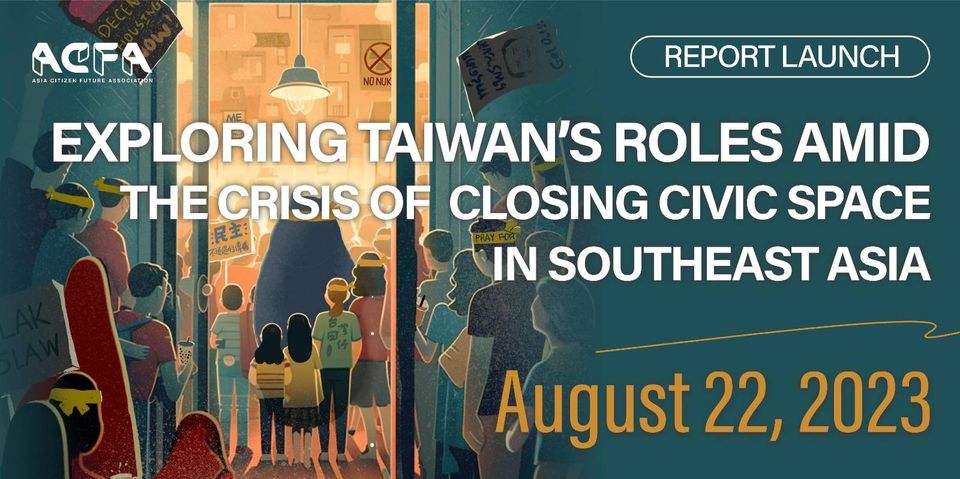 Asia Citizen Future Association (ACFA) is thrilled to announce that we will be hosting our report launch and forum on 22 August 2023, in Taipei.
Shrinking civic space has been a common threats faced by the Southeast Asian countries in recent years. Against this backdrop, ACFA has conducted research to explore the accessibility to Taiwan's civic space, and aims to open a dialogue on how Taiwan, as one of the nearest democracy to Southeast Asia, could collaborate with Southeast Asian civil society to defend civic space together!

During this forum, we will be discussing the following topics:
Report Launch | Exploring Taiwan's Roles Amid The Crises of Closing Civic Space in the Southeast Asia
Panel | Enhance the Accessibility to Taiwan's Civic Space: Foreigner's Rights to Association in Taiwan.
Panel | Threats to Freedom of Association in Southeast Asia:  Cases in Malaysia, Cambodia, Singapore, Myanmar, and the Philippines.
Rise Talk | Regional NGO Hub in Peril: Thailand in Democracy's Crossroad.
Roundtable| Initial Exploration of Taiwan's Roles to Confronting the Trend of Closing Civic Space in the Region.
For Mandarin page: https://www.acfa.tw/reportlaunchtw/
This event is by invitation only, please contact us at public@acfa.tw to request to register for our report launch event.