[Statement] ACFA echoes The Minister of International Cooperation of NUG's call on the Taiwan's government to say no to the sham election, and to condemn the airstrikes conducted by the Myanmar military junta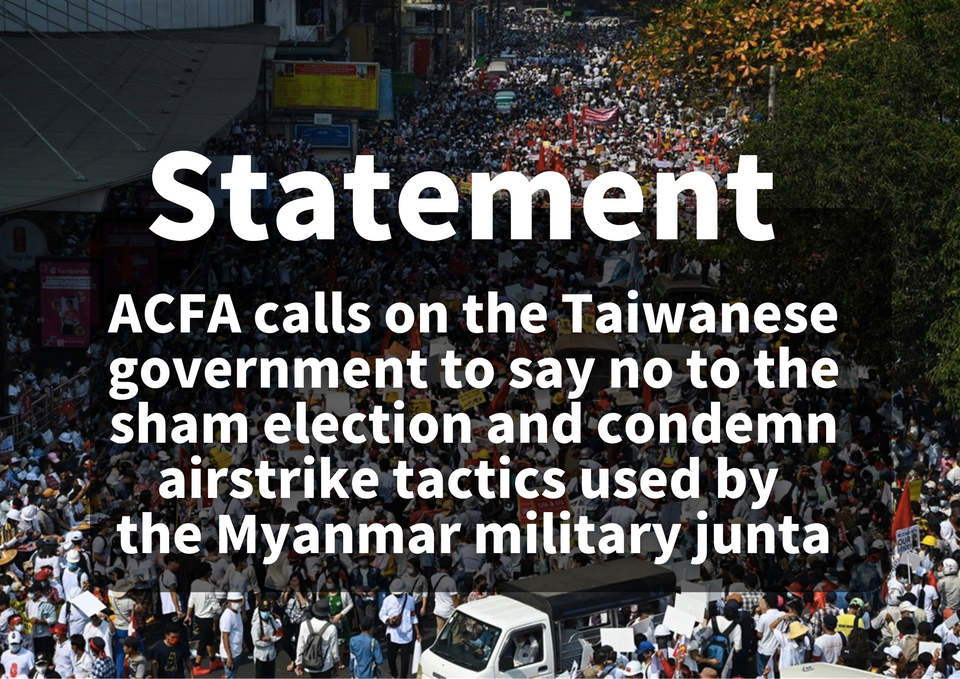 2023.4.11
The Myanmar military junta seized power through a coup on February 1, 2021, overthrowing the National League for Democracy (NLD), which had won over 83% of the seats in the 2020 election. The unelected nature of the Myanmar military renders it incapable of representing the people of Myanmar, and its rule has always been devoid of legitimacy.
The Myanmar military junta is aware of the international community's emphasis on the importance of representation. In the second year of the coup, it has persisted in promoting military-led election plans and polls, with the hope of legitimizing its rule through the unfree and unfair election and polls.
Since January of this year, the military junta has mandated that political parties re-register in accordance with newly introduced election laws, which impose strict limits on the number of party members and qualifications of candidates, etc. The National League for Democracy (NLD), led by Aung San Suu Kyi, is among the 40 political parties that have yet to complete the registration process.
It is noteworthy that these disbanded political parties had collectively garnered more than 89% of the votes in the legitimate 2020 election. This implies that without the participation of these political parties, the election being promoted by the military lacks legitimacy. The condemnation from the international community and the 'Anti-Sham Election' initiative is gaining momentum. However, if the military junta succeeds in holding the election, it could weaken the resolve of the international community and ASEAN to condemn the coup, providing an escape route for the Myanmar military junta.
Dr. Sasa, the Minister of International Cooperation of Myanmar's National Unity Government, has publicly called on Taiwan and other East Asian democracies to recognize the nature of the sham elections orchestrated by the Myanmar military in an interview with Nikkei Asia. He has also urged democratic countries in the region to proactively reject the legitimacy of the sham election.
Taiwan's Legislature has passed a cross-party resolution, which is the only one in the Chinese-speaking world, in response to the coup in 2021, demonstrating its unwavering support for Myanmar's democracy and its humanitarian efforts.
However, as the coup persists, the absence of action from Taiwan's executive departments has hindered its ability to support Myanmar.
We urge Taiwan's government bodies, including the Ministry of Foreign Affairs and the Immigration Department, to engage with stakeholders with the aim of protecting the rights of Myanmar people in Taiwan.
We call on the Taiwanese government to reject the Burma's junta's sham polls. Taiwan's Ministry of Foreign Affairs and Foreign Minister Joseph Wu should categorically and publicly disown the electoral exercise.
We call on the Taiwan's government to condemn the Myanmar military junta's air strikes against civilians.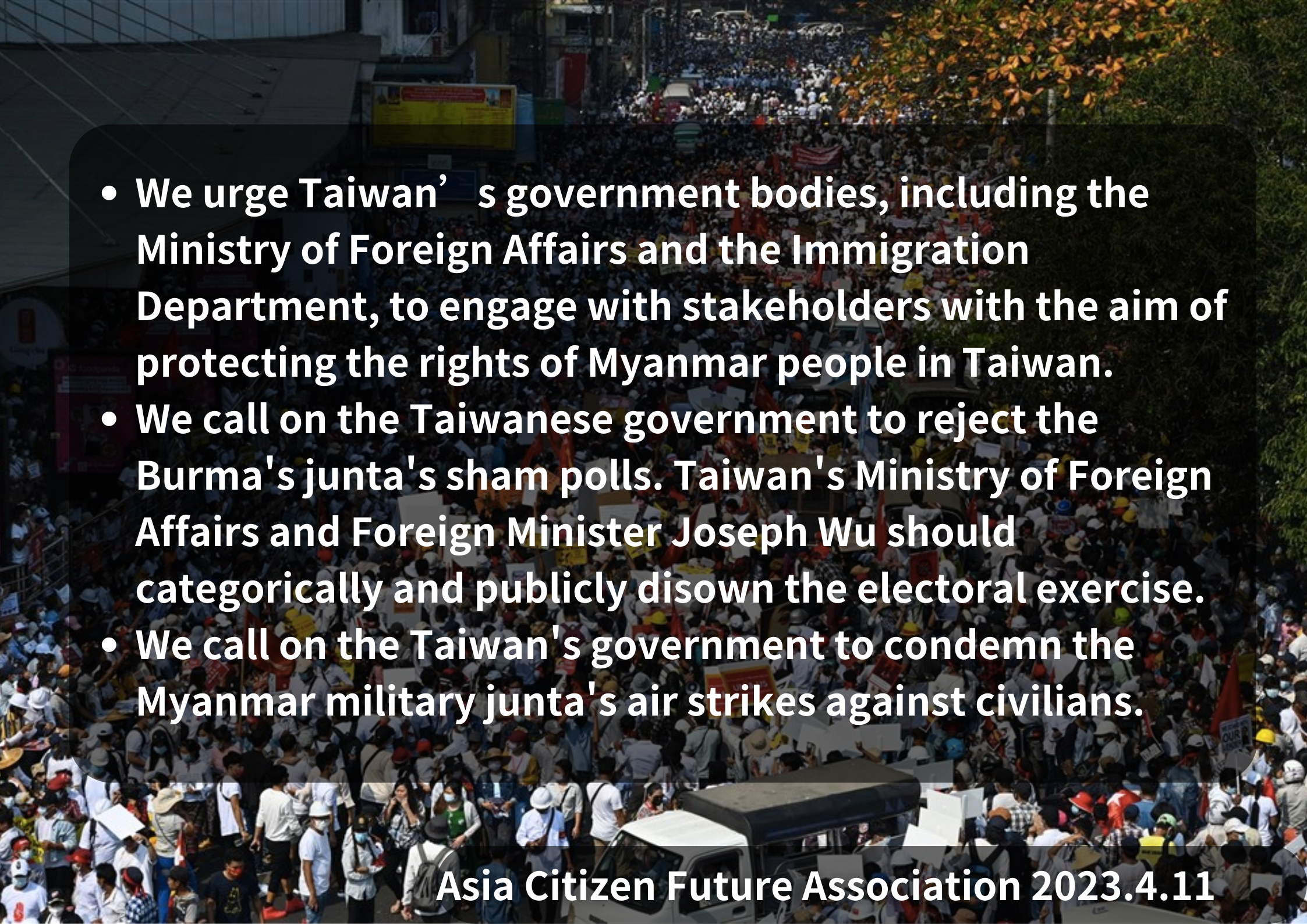 Taiwan's MOFA response on 12 April 2023: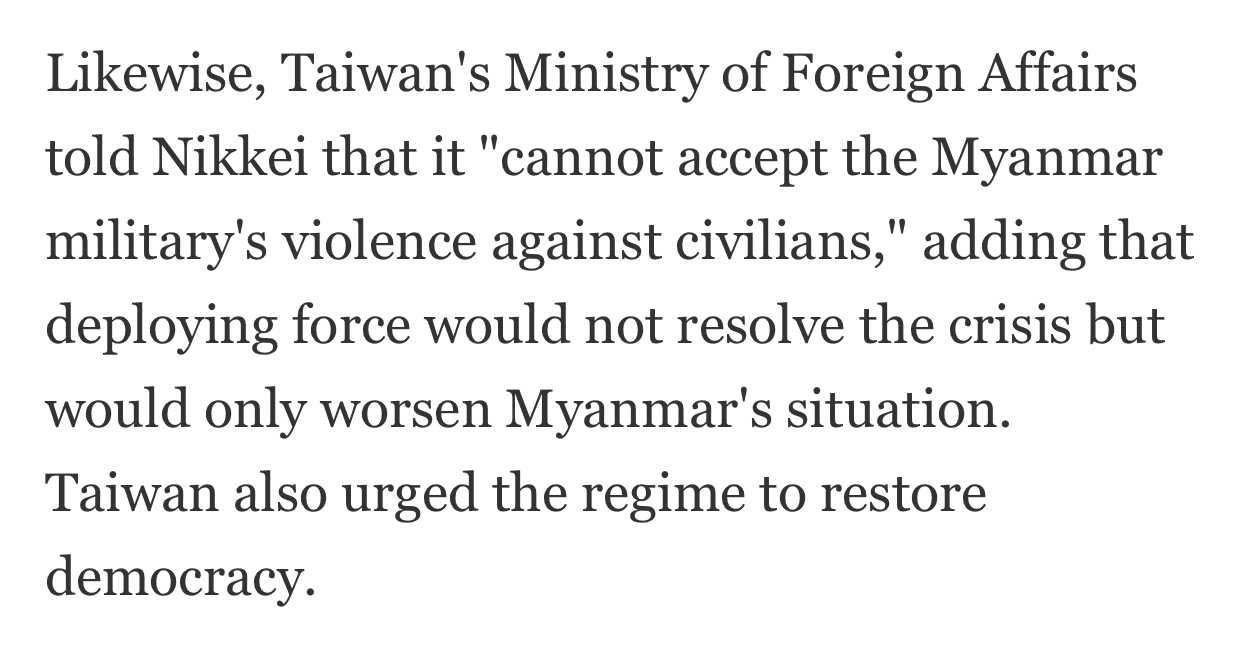 Statement by Asia Citizen Future Association 亞洲公民未來協會