20231019 ACFA is invited to New Bloom for a panel discussion.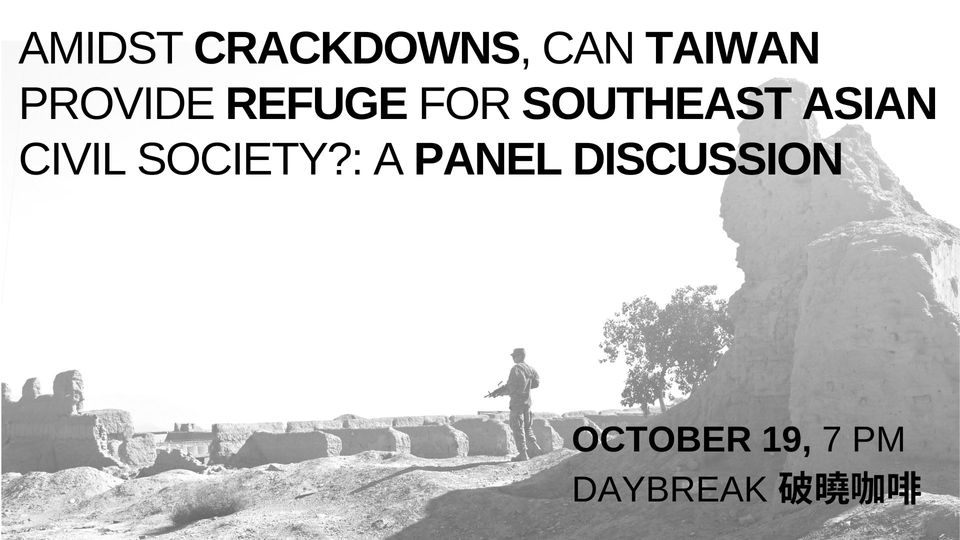 Bangkok and Hong Kong have historically been hubs for civil society in East and Southeast Asia. However, in the wake of the protests that broke out in 2019, Hong Kong has seen significant political repression in recent years. Likewise, Bangkok has become increasingly dangerous for asylum seekers, civil society organizations, and human rights defenders in past years.What role can Taiwan play, in light of the deterioration of civic space in Southeast Asia? Can Taiwan position itself as a space for civil society organizations and human rights defenders now facing threats elsewhere?
To explore this question, we've invited the Asia Citizen Future Association (ACFA) to share with us the findings of ACFA's recent report, "Exploring Taiwan's Role Amid the Crisis of Closing Civic Space in Southeast Asia."ACFA aims to promote the collaboration between civil society between Taiwan and Southeast Asia. ACFA explores Taiwan's role in tackling the challenge of the closing of civic space in the region. In August 2023, ACFA held "Taiwan and Southeast Asia Civil Society Week" and launched a report to scrutinize Taiwan's accessibility for Southeast Asian NGOs and activists.
[Speaker]
Leah Lin is Executive Director and Founder of Asia Citizen Future Association (ACFA).
Doris Yang is a researcher at ACFA.
Lai Yen-Rong is the Refugee Specialist of Taiwan Association for Human Rights(TAHR), focusing on the case support and the advocacy for Taiwan's refugee issues.
[Moderator]
Brian Hioe is one of the founding editors of New Bloom. He is a non-resident fellow at the Taiwan Studies Programme at the University of Nottingham.As with our usual events, there is a suggested donation of 100 NT to help us pay rent.